Everyday, SEMPER & ADHUC leaves on a quest to find new mechanisms of different origins and calibres, which will constitute the core of our future models.
semper (lat) [sem.per], adv, 1. always, all the time, endlessly, constantly.
adhuc (lat) [ad'hu :k], adv, 1. until now, until this moment, till this time, so far, up till now, again.
In latin, SEMPER & ADHUC means "from always until now". This appellation symbolises perfectly the essence of our concept: the creation of unique watches containing in a restored mechanism, as a way to anchor an ancestral heritage in our time, for the many years to come.
Everyday, SEMPER & ADHUC leaves on a quest to find new mechanisms of different origins and calibres, which will constitute the core of our future models.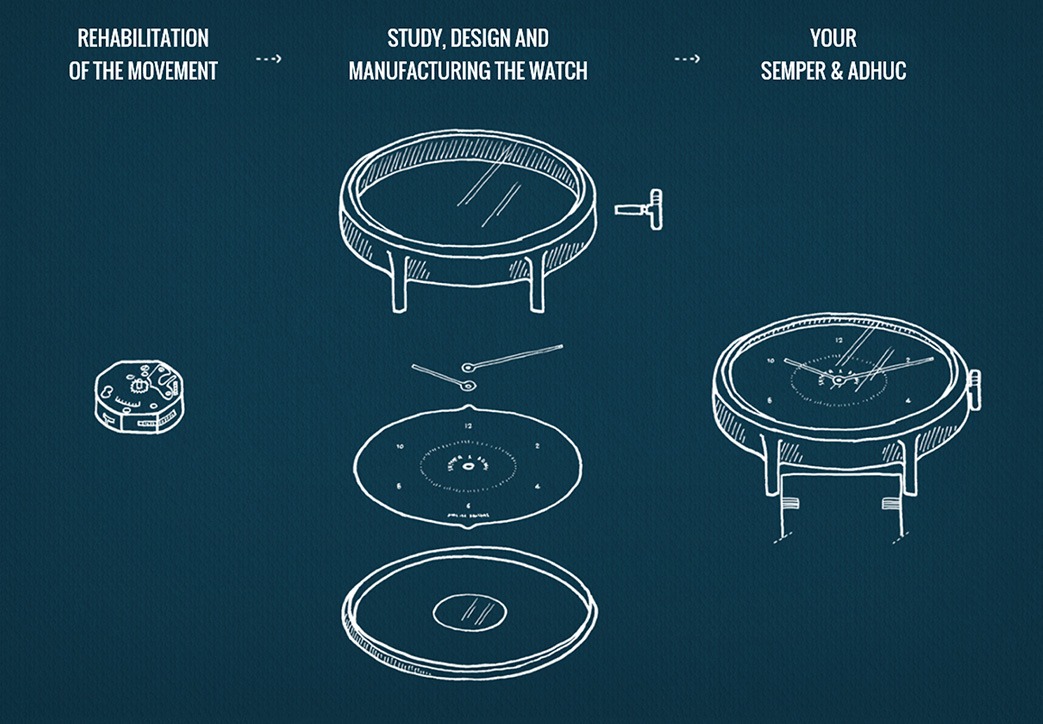 "Semper & Adhuc is my lovestory with watchmaking; it began during my childhood, a time when the infinitesimal and its wheels started to fascinate me forever." _Colin de Tonnac
Still only a young student in watchmaking, Colin de Tonnac provides himself with orphan mechanisms, which he brought back home after school to keep on experimenting the different techniques of the job. Fast enough, this hunt for movements gave birth to a true collection, from which some parts will later on be reborn inside the very first Semper & Adhuc watches.
After graduating in the Metiers d'arts at the college of Edgar Faure in Morteau, Colin works in a prestigious and independent manufacture in Geneva: Patek Philippe SA. First in the quality department, then as a lab technician in watchmaking, he keeps on improving his abilities in elaborating , optimising and assembling timekeepers. In August 2016, driven by a deep desire to set up his own business, he creates the project of his dreams: an elegant and time resistant watch able to recreate a strong and vibrant link between the object and its owner. But that is not his only wish. His brand will remain at a human size, with a voluntarily limited development, and it will be made in France.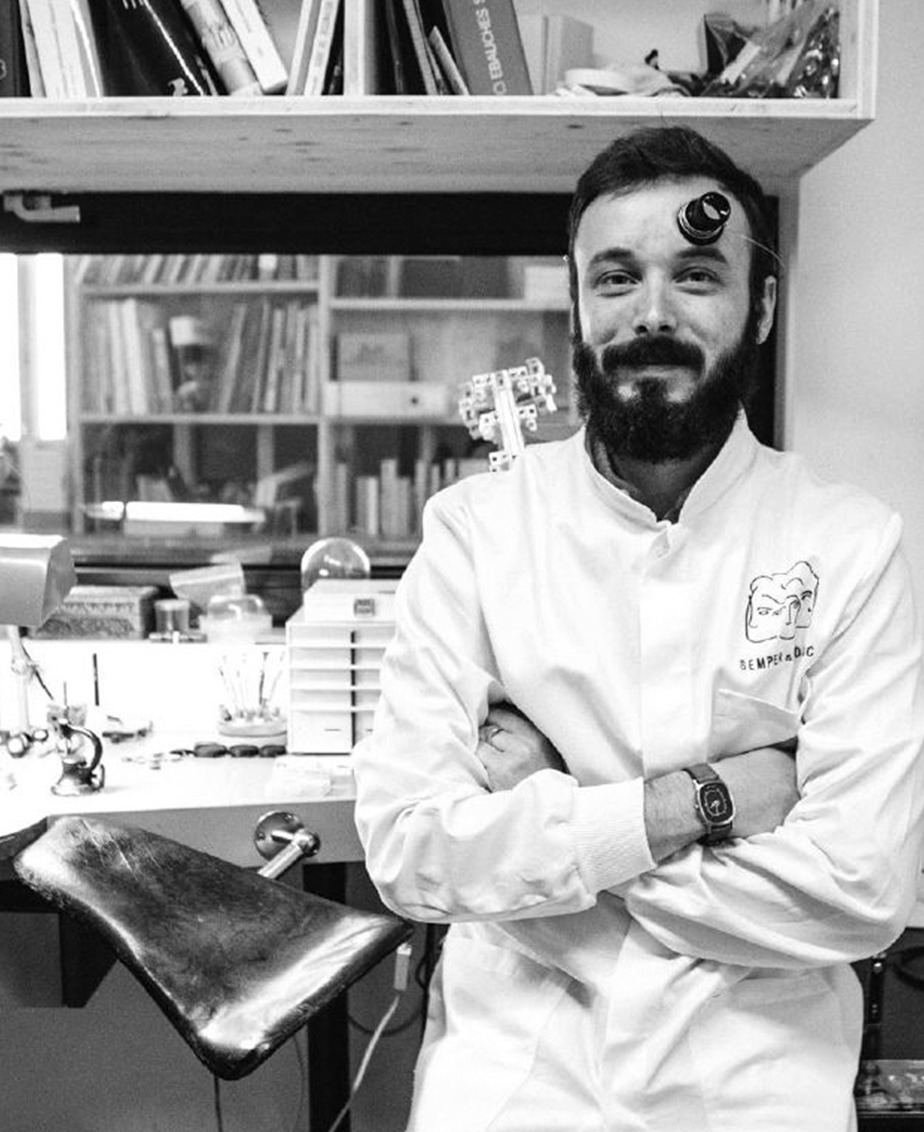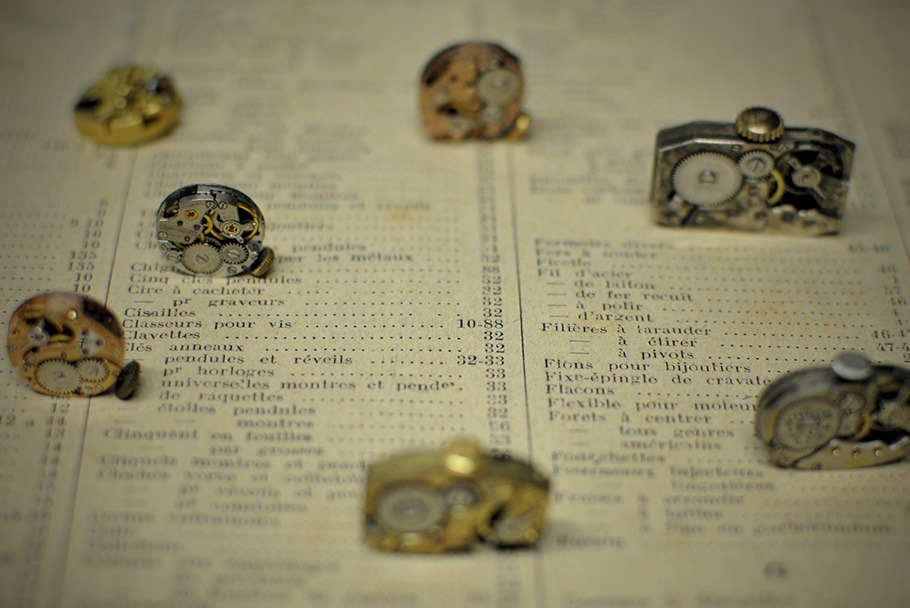 "Wearing a Semper & Adhuc watch means to walk out from the frenetic race of the world against time, to leave it up to your wrist and the history it now bears."
Our logo is inspired by The legend of the Fates. The three Fates are the goddesses of the human destiny in the greco roman mythology. These three sisters held a mysterious thread, the epitome of lifetime. The first one wove the birth of the human being, the second one unroll the thread during the lifetime, until the third cut it short, marking the time of death. The thread thus represents the duration of human life so that the Fates whom may be seen as the first measurers, play the part in someway of the first watchmakers.
In this period of time characterised by a constant obsession for technical evolution, Semper & Adhuc has willingly chosen to swim against the current, and go back to strong and deep values. The workshop turns back to the past to rewrite the history of ancient mechanisms. But these components are nevertheless quite rare, and time is slowly watching their disappearance, so that uncovering them is quite a treasure hunt, a thorough and daily quest. As a consequence, we keep on searching new projects to continue the writing of our own history.
Each and every watch is conceived, designed, manufactured and assembled in France. The Semper & Adhuc workshop is located in Bordeaux and works exclusively with local partners. We have strictly renounced to the use of standardized components easily available on the market since we want to remain creative and innovative.
Semper & Adhuc is committed into manufacturing its watches at the right pace, restraining its annual production and not focusing on quantity. This allows the brand to master its activity, its quality, and to maintain the proximity with its partners and its clients. In other words, the brand stays its own master.
Preserving and perpetuating the artistic craftmanship
Semper & Adhuc dedicates itself to retrieve and revalorise a maximum of mechanisms fallen into oblivion throughout the last decades, for the cultural heritage it constitutes, but also because it highlights the ancestral knowledge in watchmaking.
Our commitment for the cultural heritage
We have based our activity on the revalorisation of ancient orphaned mechanisms, an approach that commits ourselves from the start in the preservation of the fine watchmaking heritage. In that sense, we are convinced that a watch out of use but potentially completely restorable, must be repaired. This is the reason why we only care for the orphan mechanisms. As for the already complete time keepers, which only need to be fixed, we would be pleased to give you references of excellent craftsmen watchmakers, whom will perfectly do the job.
In choosing meticulously these ancient mechanisms as the starting point of our creations, we contribute to a more reasonable consumption. Moreover, by selecting mainly local partners, we are able to reduce our carbon footprint. We can also reach our goal to moderate our production, an average of 150 watches per year.
During the past two years, Semper & Adhuc has seen quite a lot of people taking part in its development and outcome as a young brand of french watchmaking. This  ideal result would not have been possible without the enthusiasm and fabulous support of our generous contributors and first ambassadors, as well as all of our partners.
We thank each and everyone of you deeply and most sincerely, and we truly hope to continue to write together the Semper & Adhuc adventure :
Adrien, Alain, Albéric, Alexane, Alisée, Alma, Andrew, Anne-Sophie, Antoine, Armand, Aurélien, Axel, Ben, Benjamin, Benoît, Brade, Bruno, Carlo, Carole, Cécile, Charley, Charlotte, Chetan, Chris, Christian, Christine, Christophe, Christophe, Claire, Clara, Coralie, Cyprien, Cyril, David, Denis, Dominic, Douglas, Elsa, Éric, Fernand, Flore, Florent, François, Geoffroy, Gilles, Greg, Hélène, Hervé, Jared, Jason, Jean-Luc, Jean-Marc, Jean-Michel, Jonathan, Joris, Julie, Julien, Julio, June-Youp, Kamil, Kasia, Kévin, Krisna, Ladislav, Laurent, Lionel, Lucie, Maëlle, Magali, Marcel, Marie, Marie-Solange, Mathieu, Maxime, Michèle, Morgan, Myriam, Nadia, Najet, Nicole, Océane, Olivier, Pascal, Patrick, Pauline, Philippe, Ralph, Rémi, Rémy, Richard, Romain, Romaric,  Sabrina, Satoru, Sébastien, Suguru, Thibaut, Thibault, Thierry, Thomas, Tiphaine, Vincent, Yannick, Zachary, toute l'équipe de l'Atelier Zelium and the Nouvelle-Aquitaine district.